ABOUT SHILPAGYA
Shilpagya, with more than 12 years of formal events experience with highest stands, attention to detail and a flexible consultative approach providing as little or as much help as you need to support you fully for your important cultural event.
"Its Called Experience"
You get one shot to get everything right and it has to be perfect! This is the spirit on which shilpagya was founded. To provide fault less delivery to client who expect a complete success from their event. We have fantastic team of experience people with dedication and passion for what they do.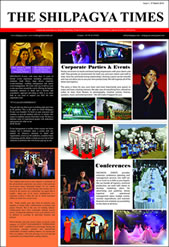 Achievements
Shilpagya is a leading group of truly indian traditional arts in india. The group belongs to ahmedabad (gujarat), india. The group mainly based on folkdance and classical dances with regional music from various parts of india. Shilpagya is an initiative to preserve indian folk dances and music.
Vision
Promoting, and diffusion of traditional culture and folk lore in youth in addition to the exchange programe with a cross cultural exposure and a global perspective. The exchange experience is all about a wide variety of culture, folk arts, people, beautiful cities, different ways of doing things and opportunities to expand one's horizons. Steps are taken every year to expand the programme further.
Activities
Shilpagya is a group of real indian traditional and cultural arts. The main activities of shilpagya are to organize the cultural events for indian folkdance, musical programs in india and abroad. Under the one roof of an institute we are giving training for various arts like indian folkdances, classical dances, musical instruments etc.
Shilpagya team members are working for national as well as international stage. We mainly work for government, semi government, local councils, schools and universities in india; we have also given many other authoritative concert in different cities of india.
We have participated and performed in more than 70 dance & music festivals within 18 countries around the world and still adding in it.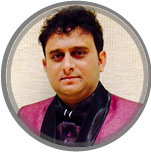 MR. VIHANG SHAH
President
Mr. Vihang Shah has participated and represented India in various countries like England, Netherland, Germany, Belgium, Italy, Spain, France, Finland, Portugal, Hungary, Poland, Turkey, Mexico, Dubai, Muscat, Sarjah, Kenya ,tanzania And many more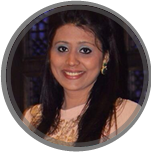 MRS. POOJA VIHANG SHAH
Vice President
Mrs Pooja V Shah is well dancer and choreographer for Shilpagya. Participated and represented India in England, Italy, Spain, Netherlands, Germany, Belgium, France, Austria, Finland, Portugal, Hungary, Poland, Thailand, Turkey, Etc.